Keep your archives safe with Security Storage
At Security Storage we guarantee full protection of your documents and your data through our security systems and access procedures.
There is a legal requirement for companies, governments and associations of various sorts to store all their commercial and accounting documents for a certain number of years. But as it happens, it is not always easy to find space to keep such documents and their numbers continue increasing despite the recent trend of data digitalisation. To fulfil this legal obligation, it might be necessary for some to contact a company which provides storage services. At Security Storage we can meet your archiving needs with our full range of services and competitive prices.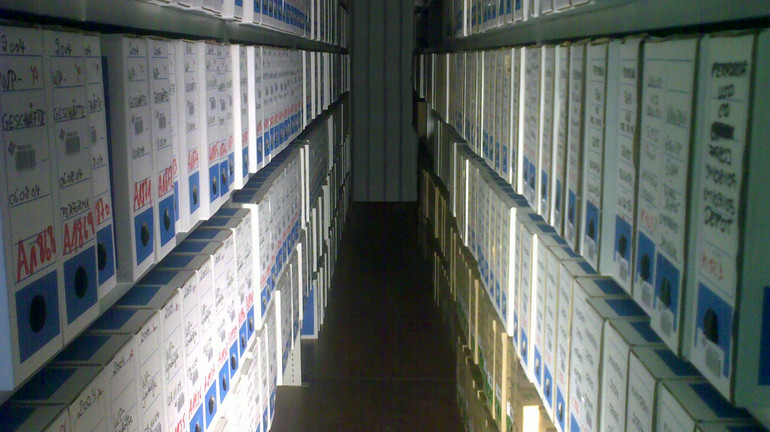 Our priority - the security of your archives
Security Storage guarantees the security of your belongings. We offer you specially designed infrastructure adapted to your archiving needs. Your documents are protected against any damage, such as that resulting from humidity or temperature fluctuations. You are the only one who can access your documents, and access to them is continuously monitored and secured by our security systems.
Benefit from our strengths and experience
The transport of your archives
In order to transport your archives safely to our premises, you can either deliver them yourself, or you can take advantage of our delivery services. Security Storage offers you tailored solutions so your archives can be transported according to your needs and requirements. If you prefer, we can also schedule regular collection of your archives. We organise our transport services both as part of schedules fixed in advance and individual one-time deliveries.
Customer reviews
Storage in suitable containers
With numerous containers specially designed for storing archives, Security Storage offers you a range of archiving containers:
Wooden containers: > 2.5 m³ > 5 m³ > 8.5 m³
Metal containers: > 33 m³ > 46 m³ > 66 m³ > 75 m³ > 85 m³
Your goods can either be stored on pallets or in containers. We can also offer you to store your own containers in our warehouses.
See what else we can offer you
A complete package deal
To help you manage your archives, Security Storage has a wide range of packaging supplies on offer specially designed to safeguard your documents during transit and to preserve them when stored. If you have archives you no longer need or wish to keep, we can also offer you professional destruction services carried out at your convenience.
Discover our packaging materials
Learn more about our destruction services
Competitive prices
Depending on the volume of your stored goods, the duration of the storage and the frequency with which the goods will be accessed, Security Storage guarantees the best prices.